~ awakening feminine divine energy ~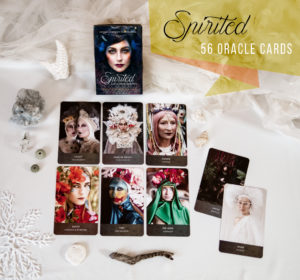 Spirited is a set of 56 oracle cards, including a guidebook with description and divination.
This project was initiated by artist Paola Idrontino and Michelle Reid, Dancing Heart Spirit Woman.
Our vision is that each card can serve as a guide upon your path to open your hearts to the spirit realm through divine feminine imagery and embrace healing, growth and abundance in your life.
The set of Spirited oracle cards consists of eight different categories: Elements, Directions, Archetypes, Animals, Shields, Cycles, Avatars, Worlds.
Each category is composed of 7 cards. These categories will assist you even further, by acknowledging the space you are in and what you can specifically become aware of, for your guidance and healing upon your path.
Paola Idrontino is a textile artist, costume designer and photographer currently based in Barcelona. In 2016 Paola picked up a camera and begun photographing her friends dressed with her costumes and mask. Her photographs express the affection for tales and myths, with references to a feminine world that becomes a protective deity of underwater creatures.
Michelle Reid is a trained Shamanic Practitioner based in Cape Town, under the tutelage of a Native American Grandmother Elder. She has been on her own personal healing journey over the past 17 years, and is now teaching different groups in Native American Shamanism. Michelle's passion, purpose and vision is to assist with transformation and the re-connection and re-balancing of ALL life on Sacred Mother and Father Earth.
Paola and Michelle have known each other for over twenty years. They met in London, 2001 at Central St Martins College, in an Art and design course. The combination of their skills and talents have merged and woven together to co-create and manifest this magnificent set of cards; with the intention of assisting you with
a deeper understanding of your circumstances, recognizing the many forms of truth and acknowledging both the light and the shadows within Self, as well as tapping into your own infinite divine potential.